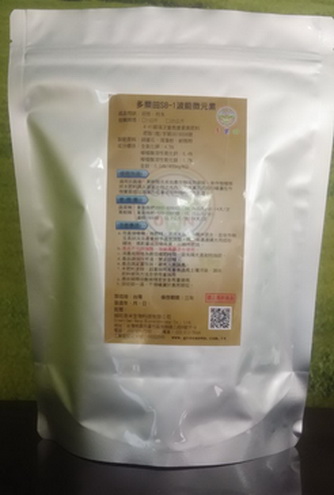 多樂田A4號 微量元素質肥料
Fertilizer category:4-41 Miscellaneous ci-liang trace element fertilizer
Reference: Fei-Zhi (Wei) No. 0819008
Status: Solid, powdered
Composition:
Magnesium:1.7%
Potassium oxide:4.5%
Calcium:6.4%
Zinc:0.04%
Properties
1. A variety of raw materials with high solubility of minerals, including natural alginate, minerals ,dozens of trace elements, natural chelated complex exists, and high activity free L-amino acids.

2. When this product in the production process, minerals, highly active amino acids and dozens of natural chelated trace elements, would chelate again to form multiple fit. As a result, the compound form will be fixed by soil nutrients released to help crops absorb nutrients, promote robust growth and improve crop quality.

3. Alginate can effectively help soil humus formation, improve the structure and activity of the soil, the use of organic acids and organic sugars to promote soil granulation, increase dissolved oxygen, reduce rotten roots and thus effective Reduce pests and fungi infection of crops.

Instructions

1. General growing period: foliar spray once every two weeks, from 2000 to 3000 times.

2. Fruit late period: every two weeks foliar spray once, from 1500 to 2000 times.

Packaging

1 KG/Bag,10Bag/Carton

Precautions

1.Ultrafine powder is likely to fly,careful placed within a bucket,mixed with water and stir well before use.

2.Do not mix the product with a strong acid,alkali pesticides.

3.Early morning or evening is the best time to spray fertilizer,fertilizer spray to avoid direct sunlight.

4.Keep the product at room temperature,sunlight is prohibited.

5.Please store the product properly set and avoid eating.

6.Do not spray the edible parts of plant before harvesting one month.

7. This fertilizer contains zinc. Excessive application is toxic and causes soil pollution. Please apply according to the fertilizer application method and amount. It should be diluted to a safe amount according to the dilution ratio.